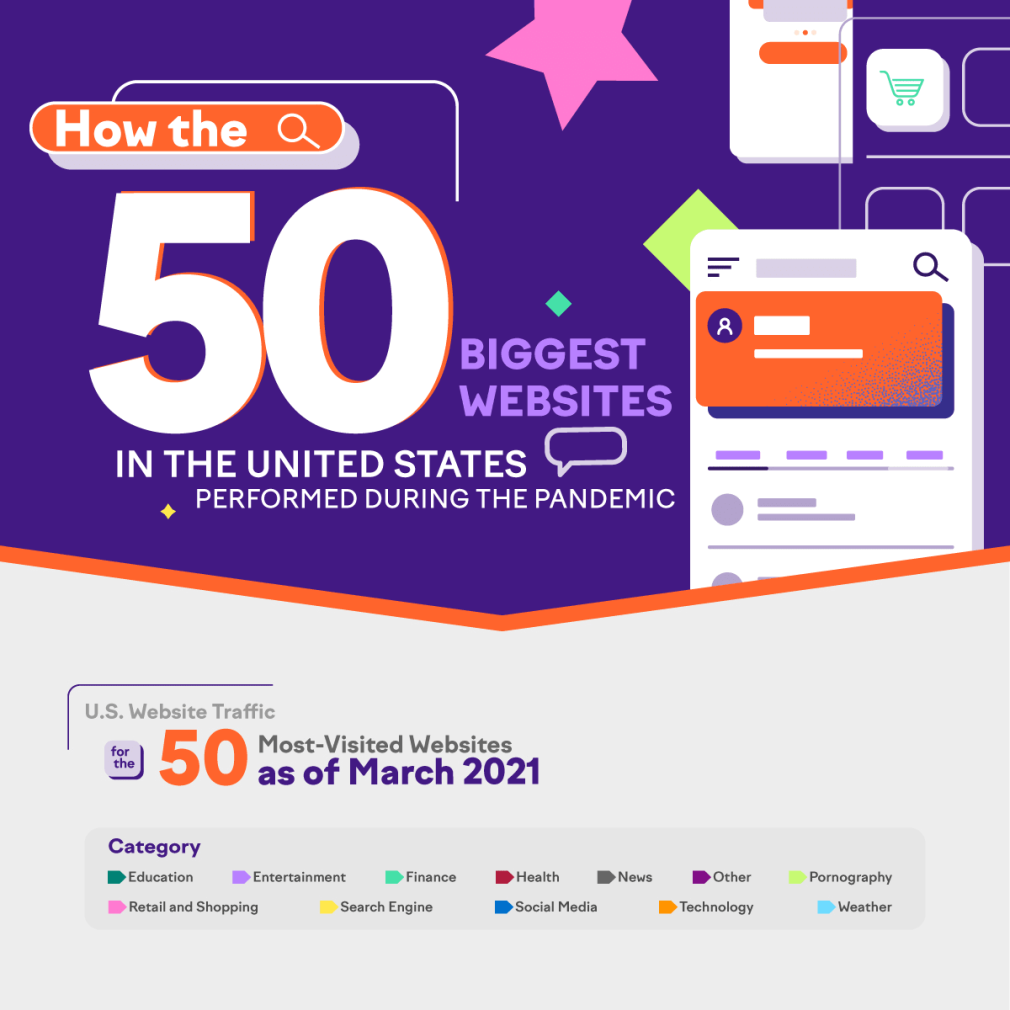 The COVID-19 pandemic changed so much about our lives. Schools went virtual, offices closed down and sent employees to work from home, and travel plans were cancelled as we all went into quarantine. Internet use patterns changed drastically as nearly everything had to be done virtually and people had to stay entertained at home.
We took a look at our database's website traffic statistics to see how the 50 most-visited websites in March 2021 fared during the course of the pandemic.
Click the image to expand

How the 50 Biggest Websites in the United States Performed During the Pandemic
Which Websites Had the Most Drastic Changes?
As most things went virtual when the pandemic escalated in the United States, people had to find new technology to do the tasks they previously did in person. Some of today's most popular websites were not even on people's radars before they went into lockdown.
In comparing Biggest Websites in the United States  in January 2020 to traffic in March 2021, these are the five sites that had the biggest increases:
Zoom.us (2,091.94% increase): This video conferencing website went from being uncommon to a daily mainstay for many Americans. From virtual learning to conferences with work colleagues, Zoom instantly became the de facto method of staying in touch during quarantine.
Instructure.com (225.30% increase): Instructure is a learning management system that had a huge surge in popularity. As nearly all classrooms went virtual, at least for a little while, this site provided a valuable platform for teachers.
Twitch.tv (129.82% increase): As more Americans were staying home, this popular streaming website became a popular form of entertainment. Some of the biggest streamers on the site feature streams of video games like Fortnite and Minecraft on their channels.
DuckDuckGo.com (84.45% increase): Users flocked to this search engine due to the site's focus on privacy. DuckDuckGo does not share personal data with third-party companies or track user's searches.
Microsoft.com (78.15% increase): This portal for Microsoft's suite of products, including their video conferencing software Teams, became much more popular as employees were working and connecting with coworkers via the Internet.
Other websites that saw an increase in traffic compared to January 2020 were entertainment websites including Fandom.com (66.85% increase) and Netflix.com (58.29% increase). Since people weren't traveling and most events were cancelled, Americans needed to find entertainment from the confines of their homes. This led to many weekends binge-watching new series and finding new films to in order to pass the time.
The one thing that remained constant is that Google.com stayed at the top of the list of most-visited websites in the U.S. throughout the quarantines. The search engine was committed to providing resources and statistics related to the pandemic so that users could stay informed.
While things seem to be improving and Americans are trying to find the "new normal," being locked down for more than a year has had a significant impact on our Internet use. It will be interesting to see how our online behaviour changes in the future as we navigate a post-pandemic world.
Want to display this infographic on your website? You can copy the below code and paste it.
To get more details about Biggest Websites in the United States  contact
RBS DATA marketing Agency